EFT Practitioner Certificate Training. EFT Private Sessions.
Get Tapping Support. Know "What to Say" while Tapping.
Get  the benefits of EFT!  Use Tapping for changing or releasing feelings to make your life feel lighter and better… right away.  Whatever-it-is that worries you most… EFT can offer you faster stress and trauma release. Get better measurable results in a private session now. You can gain more inner peace, and an easier path to the kind of meaningful changes you desire!   
Rapid, sometimes surprising, results can come with EFT.  "Tapping" is gentle and powerful; a natural acupressure technique. Usually with EFT, the more intense your pain or issue is, the faster EFT will help reduce or resolve it!
I see Tapping provide really valuable changes all the time.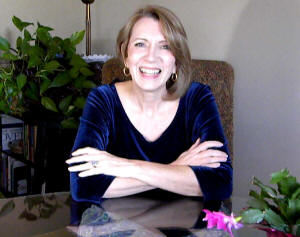 Janice Smylie, CCHt, NLP, Reiki II, TFT, EFT,
EFT Practitioner Trainer, EFT Coach & Practitioner
In a clinical study of Emotional Freedom Technique's
gentle Acupressure - the results show 62.3%
reduction of stress and anxiety -
with just 10 minutes' Tapping!

In a Caretakers/Clinicians EFT study, their
Stress and Anxiety was reduced 45% (in an ongoing way!)
with just a SINGLE one-day Tapping workshop.
Everyone.  Including YOU.  Negative emotions or beliefs from experiences we have had can remain with us.  Feelings of anger, anxiety, sadness, shame, or loss from our childhood, or from present challenging situations, can be directly reduced or completely resolved with Tapping.
Your life is ALL about you. What you think, what you believe, and what you will or will not allow yourself to do.  EFT can help clear being stuck in rumination, to gain you freedom from the past.  
If you have stored trauma, resentment, grief, disappointment, heartbreak, or abandonment – EFT is for you.  When you release unseen links to self-sabotage with EFT, Tapping can then help you to build effective new habits for success. 
Nothing changes – until YOU change something!  Get help now to stay focused within Tapping, so you are able to get rewarding results you might not have previously thought possible for you.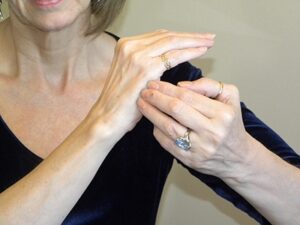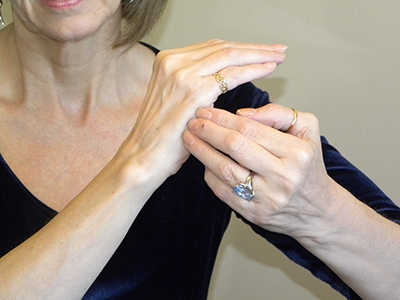 Trauma limits our action in ourselves,
and our actions into the world.

~ Dr. Peter Levine, PhD. ~

Experience the Benefits of Releasing Feeling Angry, Sad or Disappointed...
Past and present traumas, and our emotional fears and challenges, can hold us trapped in a invisible state of vulnerability.
Hidden vulnerabilities never go away, unless we see them and actively release them.
If you feel immobilized and can't see how to change your situation, or are unable to follow through on taking actions to make improvements in your life, come see how Tapping can help you move forward.  You can address these issues, and more…
reducing stress / releasing anxiety
dialing down emotional / physical pain
trauma / PTSD / boundary issue triggers
emotionally abusive relationships
negative, repetitive thought loops
feeling overwhelmed / powerless
self-sabotaging behaviours / bad habits
feeling stuck – lack of hope / purpose / clarity
not having 'enough' / not feeling 'good enough'
relentless inner critic / perfectionism 
unloved / abandoned
Ready to Tap? Call to chat (free 20 minutes) to see how Tapping can be most helpful for you. Make a plan and take action! Call Janice at (403) 710 4443
You Can Become an EFT Practitioner, an EFT Client,
or just Tap-along, right here.
Gary Craig, Founder of EFT
set the EFT training workshops
content for new EFT Practitioners.
Approved EFT workshops -
EFT Practitioners Level I & II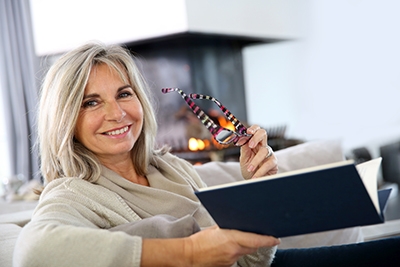 It can help to have someone
to Tap with. Feel safe working
with Janice on sensitive issues.
Experience meaningful releases
and success with Tapping!
Tap-Along scripts and audios are
available for you, addressing
a variety of concerns & issues.
Find the "right words" to Tap with
to address your situation...
Benefit from 5 Private Tapping Weight Loss Sessions
or
EFT-Tapping for Weight Loss - 7 Week Program.

(Private Sessions offer has a Great Bonus!)
START achieving your goals!
Tapping empowers your weight loss – 
     Stops "mindless" emotional eating
     Crush Cravings – as they are happening! 
Easy to follow worksheets and videos
Change your relationship with food 
Stop feeling deprived, or "not enough"
Follow a simple Tapping "plan" 
Address old habits and behaviours –
Stop doing the things that stop YOU!
Find the actions and behaviours which DO
support you, and your goals.
Begin feeling empowered in your choices
EFT's Clinical Weight Loss Study - Avg. Loss 16 lbs. over 8 Weeks
Testimonials - Women & Men love Tapping!
Benefit by Becoming an EFT Practitioner,
a Client, or just using 'Tap-alongs'.

Need More Details about using EFT?
use tapping to release your chronic physical pain
My life changed completely after I used EFT. Tapping stopped 19 YEARS of chronic pain & turned off cycles of depression 
Many stresses / emotional issues anchor or increase the pain level your body expresses
YOUR PAIN, physical / emotional CAN reduce or even completely release, with Tapping
not achieving your goals?
Raise your self-esteem & increase self-care
Deserving & worthy of love? Get self-approval!
Tapping empowers your weight loss – 
     Stops "mindless" emotional eating
     Crush Cravings – as they are happening! 
Tap with "a plan" – benefit the most from EFT
     Avg. 16 lbs. weight loss over 8 weeks with
     EFT.  No weight re-gained after one year!
EFT's Clinical Studies show excellent results
25% reduction of Cortisol, w/ 1 hr of Tapping 
62.3% reduction of Anxiety, in 10 minutes
EFT's Tapping rapidly helps clear 'brain fog' improving your ability to make decisions 
Tapping can reduce fears and anxiety, to  empower you into taking action for yourself
Rapidly reduce physical pain by 68% with Tapping
When EFT is properly applied, over 80% of all issues
achieve either a very noticeable improvement
or a complete cessation of the problem.

EFT doesn't do everything for everyone,
yet what it does do, may astound you!

~ Gary Craig, Founder of EFT ~
Join our Mailing List here and get A FREE 2 Page
Simple & Effective 10 Step Talk & Tap Guide
If you'd like more EFT Tapping Resources… visit my ETSY Shop
 Choose how you'd like to use Tapping
 Take Action Now
 Feel less Stressed, Right Away